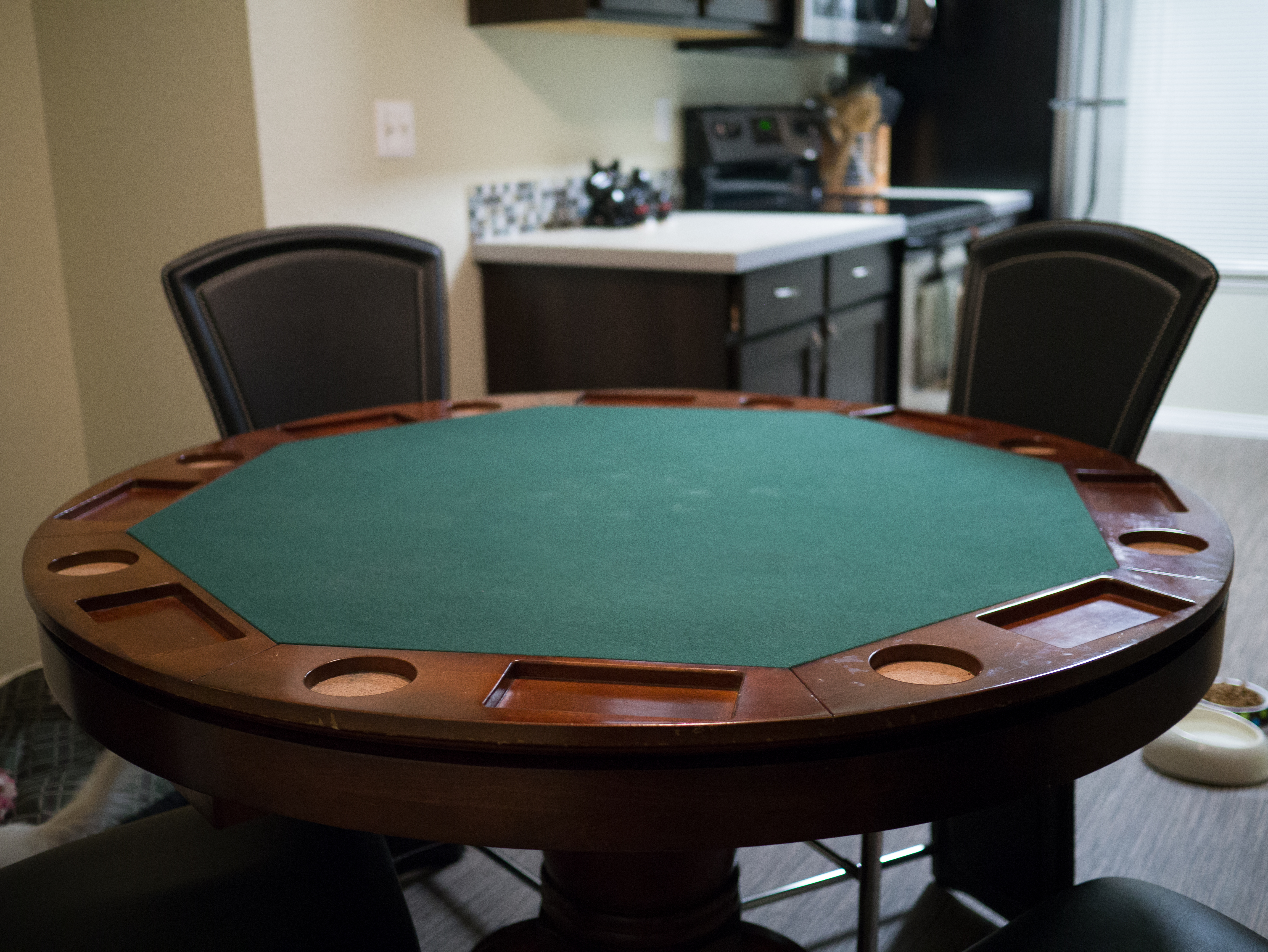 Since we've started the +EV Investments Series, we've reviewed nearly every category:
And now we've arrived at perhaps the most important centerpiece of a poker player – the poker table. I've seen and played on my fair share of poker tables, and our last post showed a glimpse of my table, for the hardcore poker players, a table that switches from dining to poker (and even bumper pool):
That will be reviewed later in this post, but not everyone can drop $1000+ on a poker table. That's why this post looks at the best poker table for any budget, starting with under $100
The Micros: Ballin on a Budget – Best Poker Tables Under $100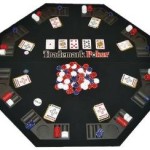 The Micros and the just for fun once a year poker tourney types need not look any further. Let's be honest. You probably don't know what a 3bet is and you think you have pot odds no matter what. Get a table that matches your skill level, and your bank roll, which is the Trademark foldable poker table the to right. It's the cheapest on Amazon at $40 and it sports 4/5 stars reviews. It gets the job done and it's just enough to get free shipping if you're not an Amazon Prime member.
You want to step it up a bit? Read on…
For the Home Game Reg – What's the Best Poker Table Between $101-500?
Let's start with the "to each his own" tables. People like to furnish their houses in certain ways, and while I don't like these 3, they are highly reviewed and could suit other people. Starting with the most basic:
Trademark Poker – Full Size Texas Hold'em 83 x 44-Inch Poker Table in Burgundy
– $272.22 & FREE Shipping
– Another "Trademark" Poker Table and the customer reviews say this is a casino worthy table! It has room for 10 player positions, built in cup holders padded armrest padded felt top. The original price is $774.99 so you're saving 65% off the list price!
Rush Creek Octagon Poker Table
– $499.99 & FREE Shipping
– For the Doyle Brunson's of the world, this rocks that old school pine look that will take you back to the old school days. This is an octagon shaped poker table, handcrafted from solid pine with a skip-peel finish that is scratch-resistant. It features a padded play field with room for 8 players and drink and chip holders for each! This table looks great and reviews state it is excellent quality. This one looks the most rustic and is very attractive.
PATENTED Multi-Purpose Poker Table w/ "Granite Look"
– On sale for 199.00 & FREE Shipping
– This one is interesting, it's a great price and you could throw a grill or a cooler in the middle. It rocks a patented design, but I'm not sure it's for me. To each his own though. This Poker Table is made of Lightweight Alumunim Construction with a separate "CASINO GREEN" Felt Table Top. Reviews say it's great value for the money, especially if you're looking for something simple and classic that doesn't take up a lot of space. Bonus – it's also portable!
Now let's move to the winners of the $100-500 bracket: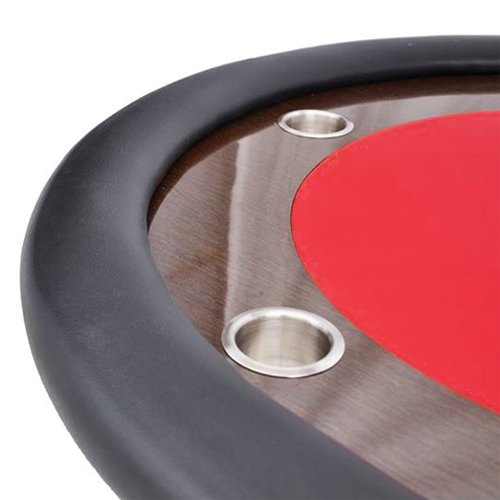 Red Felt Poker Chip Table with Dark Wooden Race Track & 10 Cup Holders
– Price: $399.99 & FREE Shipping.
Description: This table features dark wooden race track, Thick 2 CM Board, 10 built in cup holders with room for 10 players, Folding Legs For Easy Storage, and Thick Padded Rail Cushion and reviews overall are very good and say that this is a sturdy table.
The $100-500 bracket came down to two choices, and it could go either way but for me this table falls in at #2, while it's gorgeous with the wooden race track, red felt and stainless steel cup holders, I prefer the #1 pick in this price range…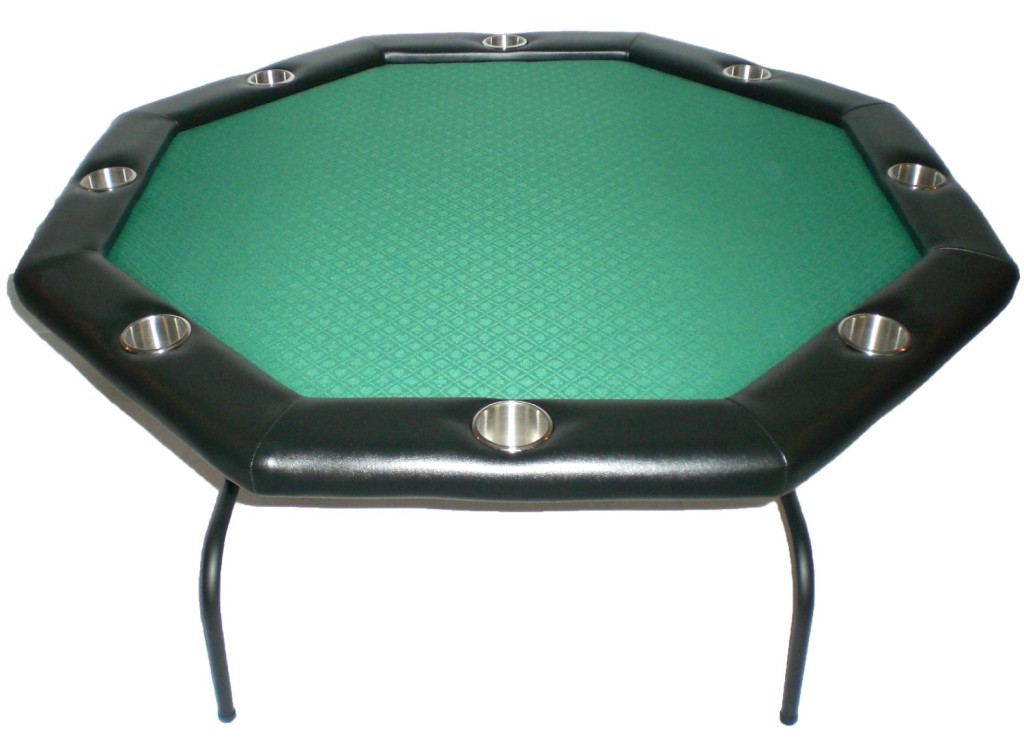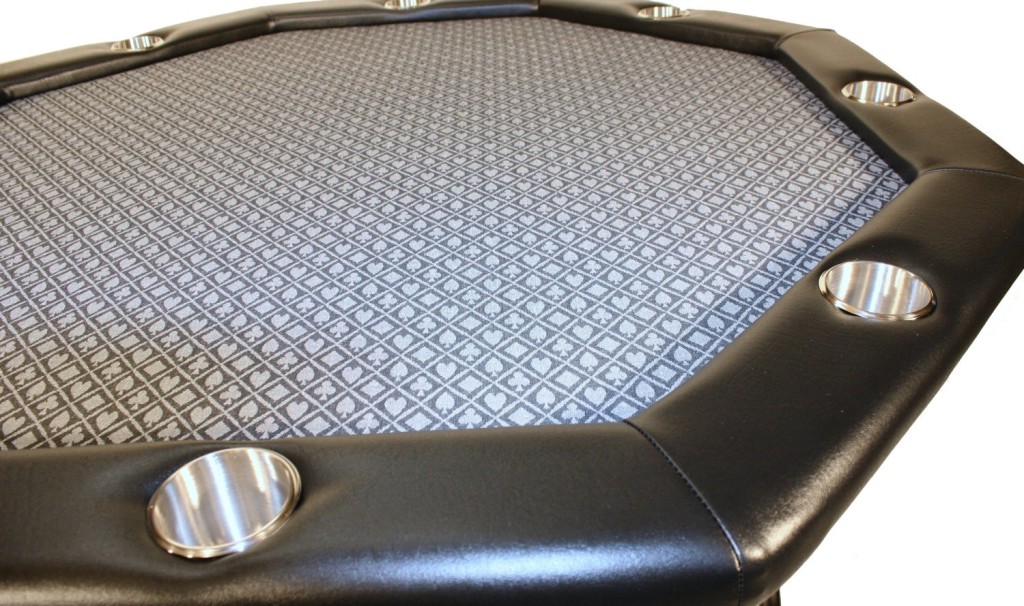 Texas Holdem Poker Table w/ Stainless Cup Holders, Suited Speed Cloth and it's also available in Platinum.
– Price: $349.99 + $75.00 shipping
– This one is Hand Crafted with Casino Quality Materials, also with Folding Table Legs and Stainless Steel Casino Cup Holders, as well as a lovely Forest Green Diamond Suited Speed Cloth Surface which is the fastest growing surface in Casino Card Rooms. The diamond suited surface is the most gorgeous surface money can buy, it also happens to be the most durable. Reviews overall, are outstanding but stated it's a bit tight for 8 players.
Pictures are worth 1000 words and this table is straight gorgeous and the perfect addition for any man cave. Plus, I prefer the rounder tables as opposed to ovals as I typically play with less players and this makes it easier to deal, and of course it's more economical for space.
High Rollin' – Poker Tables over $500 that will have your friends sayin dayyyyymn!
A real poker player eats dinner, than couple flip over his table and he's ready for a little heads up action… or I guess even a little bumper pool if he so chooses. Personally, I think it's the best choice because:
a.) It's the perfect dining table. It's nice and no one would ever know (or have guessed) that it's a poker table.
b.) It saves room, all the other options will take up closet space. Unless you have a dedicated game room, expect to have to haul it in and out.
c.) It's the perfect size. I've already mentioned that I like round over oval poker tables because I don't often run a full ring game (9/10) players instead opting for short handed play.
They don't have my exact table on Amazon anymore, but there's plenty just like it. I recommend just checking them out here:
Search Results: "Poker Dining Table" on Amazon
They start at about $600, and go up to over $2000. We spent about $1000 and I've earned that back with use many times over