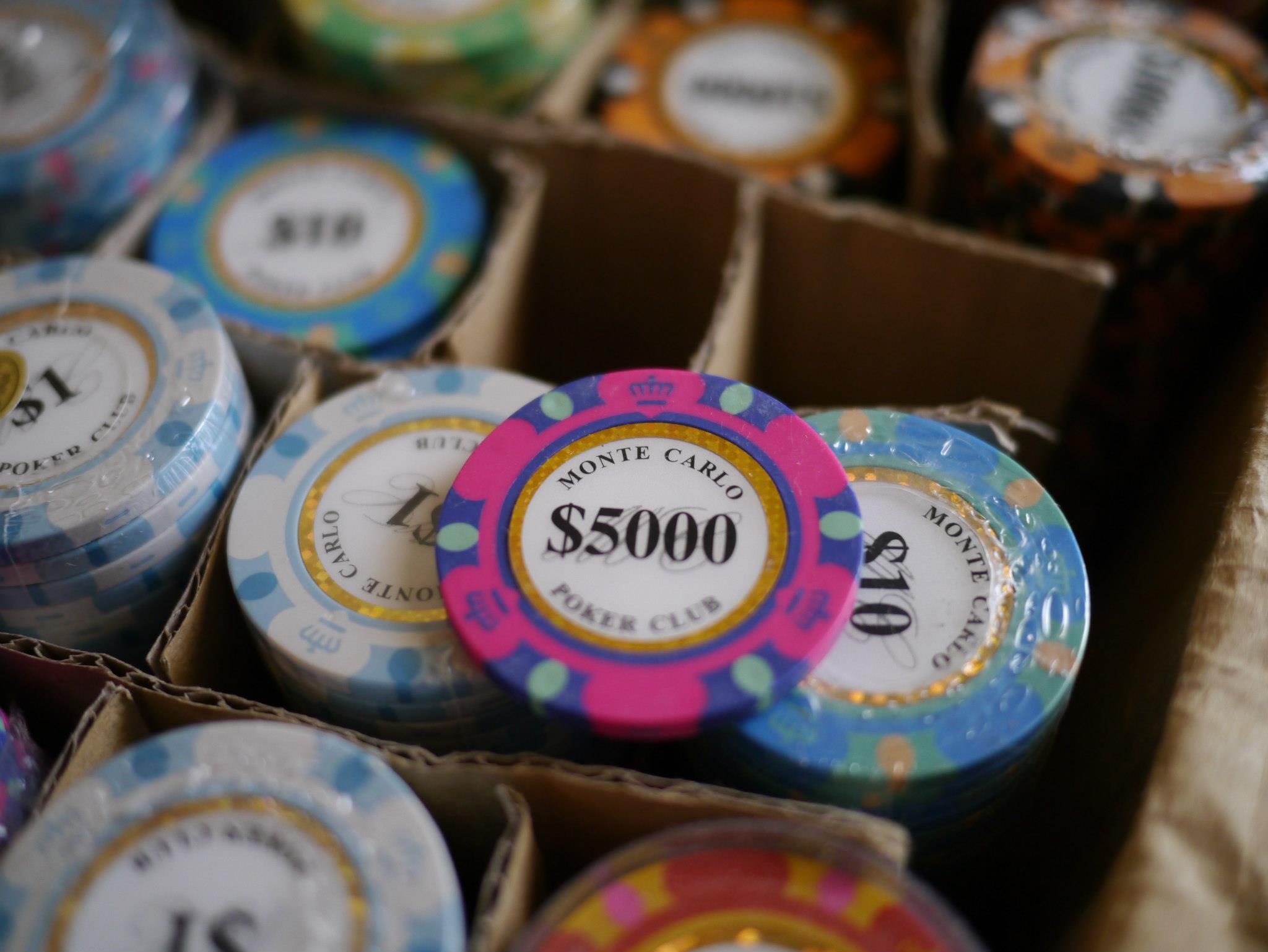 You're not a poker player unless you have a chip set worth talking about. I remember when the poker boom first hit, the weekly poker game took every household by storm. Problem was, nobody had chips – and the people that did had the crappy $10 sets from Walmart. Try doing chip tricks on those!? Today, after a long hiatus, we're back to reviewing the top 5 best poker chip sets!
Before I jump to the list, I have the obligation to tell you, you can't have a nice chip set on that crappy piece of green cloth you're calling a poker table! Hell, a true poker player, has dinner, then flips his table over for poker. Checkout my new poker table (which doubles as a dining table, and bumper pool):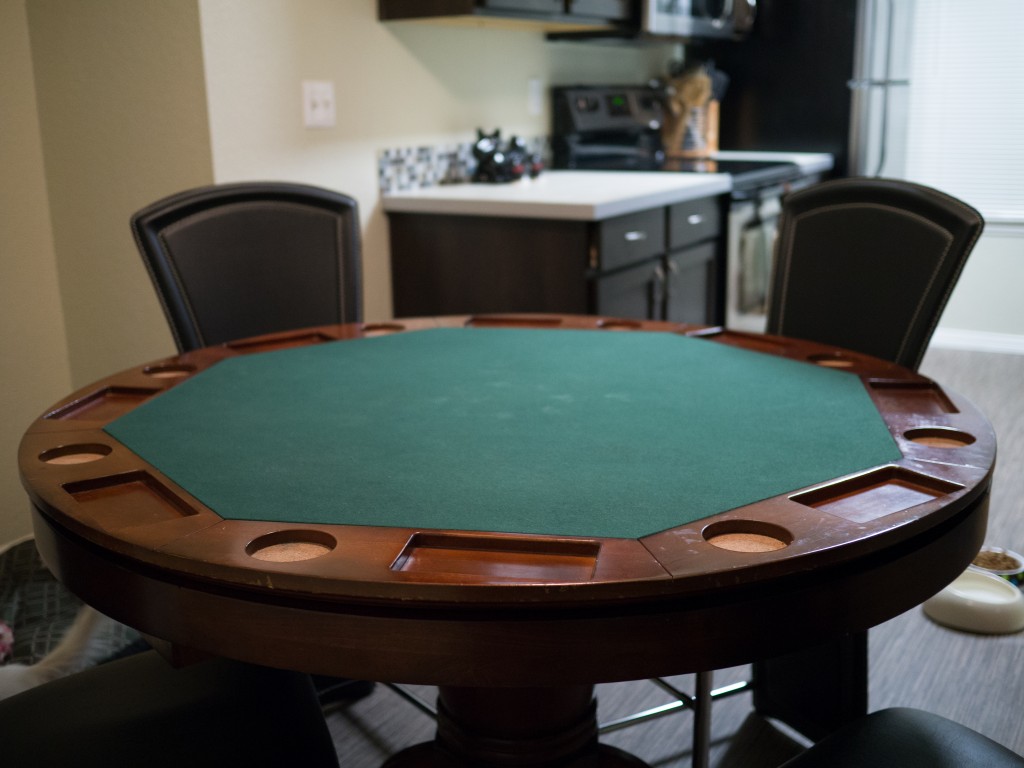 As far as poker chips, I looked long and hard… I wanted something better than the standard aluminum case 11.5 gram chip set… everyone and their mothers have those now! But if you are looking for a decent, yet affordable set to get the home poker game going, I'm obligated to at least include this as #5 on the list:
5. Trademark Poker 500 11.5-Gram Poker Chip Set - The casual $10 buy-in "poker players" don't need to read any further. Mom's, Pop's and players who don't know what 3-bet is should just pick this set up. $38 shipped – not bad considering chip sets are pretty heavy. PS. Sometimes you can small versions of this set (300 chips?) at Ross for $25.  
4. 750 Casino Del Sol 11.5 gram Poker Chips - Let's face it, ultimately the poker chip set you choose are the ones you like best – this set had numerated chips… which I wanted and the price was reasonable, but I just wasn't feeling the design. You might feel otherwise though and for $70 it's not a bad deal.
3. Ivory Poker Chips –  
In my search for the best poker chip set, a lot of people talked about ivory poker chips. They're made of ivory (expensive), and are collectible in some circles. The only place I could really find them online was eBay… but they're much to ugly for me (and way overpriced!). However, some of you Doyle Brunson's out there might appreciate old antique chips. I'll warn you though – they're a couple bucks for a single chip and collectible chips can hit $50+. To each his own, and I had to include it on the list for you collectors out there.
2. The Most Expensive Chip Set – Paulson 1000 Paulson Tophat and Cane Poker Chips – 
At a whopping $1500 they're out of my budget for a chip set, but I had to include Paulson on the list. Why? Because Paulson is chosen chip for most casinos here on the Las Vegas Strip and around the world. Even their cheapest poker chip set
 rings in at $450.
1. The "Value Bet" – Monte Carlo 14 Gram Poker Chips
 – Finally, the chipset I opted for and I'll tell you why. Everyone has 11.5 gram poker chips. Therefore the #1 requirement I had for a new poker chip set was that it must weigh more than 11.5 grams. The Monte Carlo's weighed in at a whopping 14 grams. UPDATE: They also have a 13.5 gram poker chip set that's a little cheaper. 
Requirement #2 – It has to be numbered. You ever play a home game and forget what $ amount you assigned to a blank poker chip? I know we have. Plus – it just looks that much better.    

Requirement #3 – Denominations for a cash game. Some chip sets out there were only numerated for $100 and up – that's great for tournaments (or high rollers) but it would be great to have $1's, $5's and $25's like the Monte Carlo set.
#4 – They had to look good – At this price and weight, the poker chip set was second to none.
Another thing I liked about them is that they sell packs of 50 chips on Amazon, just in case you lose some or want to expand. Which, I ironically, I may need to do! After coming back home to Las Vegas, I noticed 2 rows of chips missing… hmmm could the TSA have thought that these chips belonged the Monte Carlo casino on the Strip? Haha… Well, good luck using them. Here's a shot after I opened it… two missing rows of chips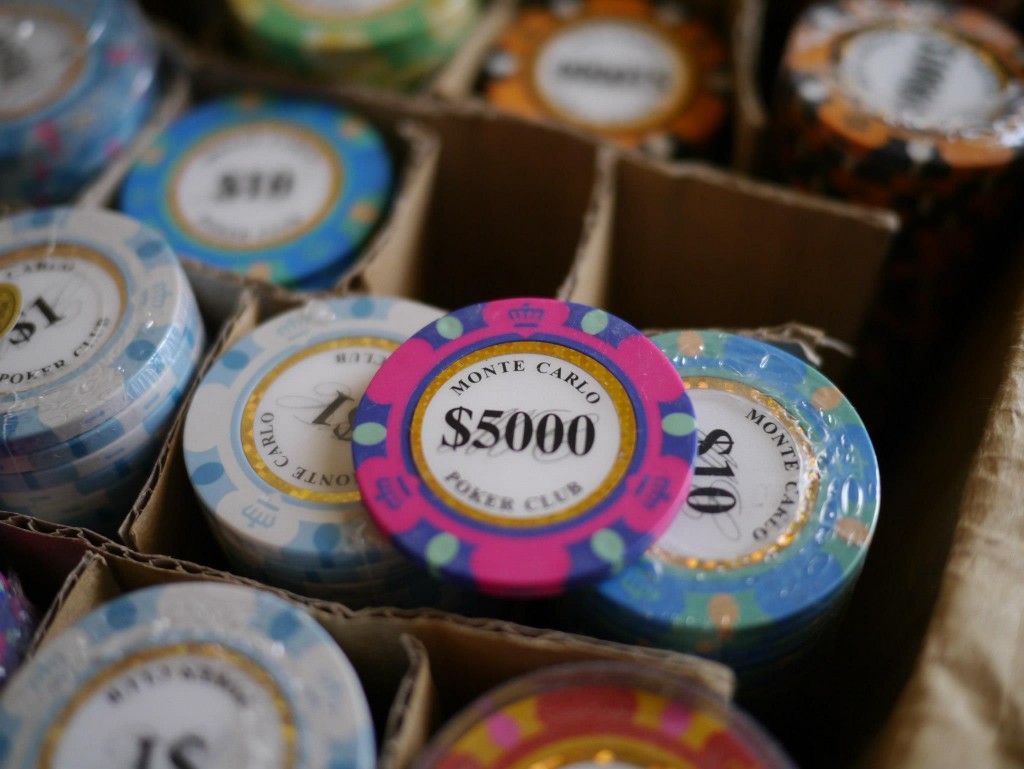 What do you think is the best poker chip set? Let me know in the comments below!