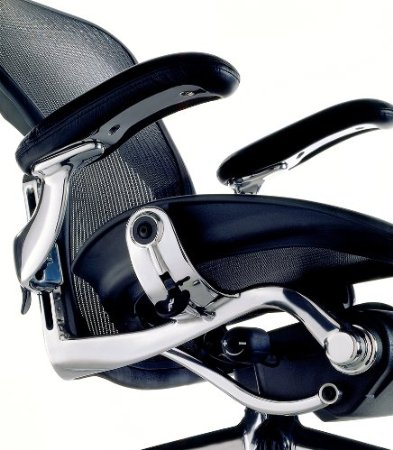 If you play a lot of online poker, you need a comfortable desk chair. But there are a lot of poker chairs and a lot of information out there. After doing the research and testing several chairs out over my poker career, I thought I'd be a good person to write up some recommendations on the best chair for the online poker lifestyle.
Poker Chairs: Having a good chair is worth the money
Some people don't want to spend a lot of money on a desk chair. And that's fine; there are definitely decent budget options. I used to be like that, thinking that $1,000 was a ridiculous amount of money to be spending on a chair.
But after my first year grinding online poker for sometimes 10+ hours a day, I eventually came to see that having an excellent chair is one of the most important things to spend money on if you're an online poker player. Proper posture and spinal support are super-important for your long-term health and wellbeing.
Think about it this way: if you are in your chair even five hours a day, five days a week (a tiny amount for most poker players or office workers), that's still 22% of your waking hours. If you are like me and have averaged 60-hour weeks, that's like 50% of your time awake! Why would you skimp on a cheap, substandard chair? I eventually came to see that chairs (like mattresses) were so important just because of the huge amount of time some of us spend in them.
That's not to say it is necessary to spend a lot of money on a chair; just that most people would agree that the best chairs usually are expensive for a reason. You should think of an expensive working chair not as a luxury, but as an important and necessary life investment.
Different chairs for different body types
I also want to point out the most important thing about deciding to buy a chair: that there are all sorts of body types. It's hard to find any one chair that's received rave reviews from all sorts of people, no matter how tall or how heavy. I'm going to try to give you a good overview of how to go about choosing the right chair, but you should try to find reviews from people who have a similar body type to you before making a decision. Most of the chairs I'll talk about here are available on Amazon, and this is great because you can read a lot of very useful reviews on there, usually with people telling you their body type and what worked about the chair. (FYI, I'm a 6' guy, 190 pounds, with a pretty slim frame, so what works for me may not work for you. That's why I've tried to be more objective in this article than just what has worked for me.)
Before we get to the chairs, a little about me and my preferences:
I like a chair that allows me to sit up straight and be more "engaged"; I don't like to lounge back and recline too much. I feel too much reclining when playing poker makes me lazy and not as focused as I should be. (But the best chairs should have that option.) This means I don't care about a headrest for the chair so much. For some people who like to recline, the chair having a headrest is very important, so that's something to think about.
Some people who like to recline or slouch report finding a lot of these ergonomic chairs uncomfortable, whereas a lot of people note that they found them uncomfortable at first only to realize that after sitting in them for a few weeks their backs stopped hurting and they felt a lot better. So sometimes it can take a while to realize that a good chair is doing you a favor by making you adjust to it and not the other way around.
I prefer light, "breathable" chairs made with fabric as opposed to leather-type surfaces. Leather is comfortable, but for sitting long periods of time in front of the computer, I find that those kinds of chairs are like beds that are too soft; they seem comfortable at first but because they don't have much support for you they can leave you sore and needing to move around after a few hours. Also, the leather ones can make me sweat if the room isn't very cool.
Without further ado, here are the top 5 chairs for online poker players, from last to first place:
5 – The ErgoHuman by Eurotech

Eurotech is a well-respected chair maker; not as well-known as Herman Miller but still producing some very well-reviewed chairs. The ErgoHuman has many adjustable features, as you would expect from any high-quality ergonomic chair: adjustable height, tilt tension, adjustable lumbar support, seat depth, adjustable armrest height, back angle, position locks.
This chair is often favorably compared to the Herman Miller Aeron (in #4 below); it has many of the same features, but is several hundred dollars cheaper purchased new.
The ErgoHuman comes with an optional headrest version for people who are interested in reclining.
Also, many people report that the ErgoHuman is better designed for taller people than the Aeron is.
4 – The Aeron by Herman Miller

The Herman Miller Aeron is a classic in the ergonomically-designed chair category. It is still regularly talked about in discussion boards as being one of the best desk chairs ever. Some people even prefer it to the allegedly more-advanced Herman Miller Embody (discussed below in #2). The Aeron is a no-brainer addition in any list of best online poker grinding chairs.
Practically all of the Aeron's components are adjustable, which is a trademark of the Herman Miller chairs. This allows for a lot of customization. There are a lot of reports of people sitting in the chairs for the first time and finding them uncomfortable, and then customizing them and reporting them to be the most comfortable chair ever. So it's important to recognize that your first impression is not that important, because you will have to spend some time figuring out how to configure it.
The Herman Miller chairs come in sizes: A, B, and C. It's important to check their seating chart and find out what size is right for you. You will most certainly not be comfortable if you get the wrong size. If their seating chart shows you to be, for example, A/B or B/C, it doesn't mean you would be fine with either; it means you need to dig deeper to determine which one is right for you.)
The Aeron is meant for upright sitting, not for reclining. It does not have a headrest. Herman Miller claims the Aeron was the first chair to "lose the foam"; instead it has a breathable mesh fabric for the seat and seat back that is intended to support you firmly in a wide variety of positions. This type of mesh material has been copied in many other ergonomic chairs.
Possible negative: The Aeron apparently gets some complaints from fairly heavy or very tall people for seat width and seat length issues, so if you have a more extreme body type, that's something to keep in mind.
3 – The Leap Chair by Steelcase

Many people give this ergonomic chair from Steelcase very high ratings. Similarly to the Aeron, there are a lot of adjustments possible. In fact, it seems like a common compliant about the chair is how hard it is to get dialed in correctly. There are a lot of reports from people who say they ended up loving the chair, but that it took a long time to get the chair to match their body well.
This chair has very fluidly-adjusting armrests, which some people really love, because it makes some things (like typing in a more reclined position) easier. But some people find it annoying because you can't lock the armrests.
The Leap Chair also has a very firm seat, which has caused complaints from some people. While many like a firm, supportive seat, others who aren't used to such a chair have reported it being uncomfortable.
Despite the occasional complaints, though; there is no getting around that many people say this is the most comfortable chair they've experienced.
For people who like to recline, there is an optional headrest available.
Note: Don't confuse this chair with the Leap Chair WorkLounge chair; the WorkLounge is a much more expensive chair, and many people report that it is meant more for people who like to recline at a desk, not for a more active working style. The WorkLounge would not be recommended for online poker players for this reason.
2 – The Embody by Herman Miller

The HM Embody gets top-notch reports from so many poker players on many poker forums. (This is also the chair that I finally decided on.) Herman Miller spent lots of money and time designing this chair to improve on the already-impressive features of the Aeron. They wanted a chair that wasn't just not bad for you, but that had positive effects on the human body.
The interesting thing about the Embody is that its design replicates a human spine, which you can see by looking at it. Once you have its many components adjusted well to your body, the chair moves with you no matter where you go, whether you lean back, forward, or even pivot. As one person in a review wrote, "no matter which way you position your body, it feels like the Embody was designed specifically to be in that position." That is a good way to put it.
Again, as with the Herman Miller Aeron (mentioned at #5 in this list), there are an A, B, and C size, so you have to make sure you get the right one for you.
It's hard to find many negatives from anyone on this chair; one is the lack of a headrest, which makes it not great for someone who likes to recline a lot. And some people have made comments that it's not great for very heavy or very tall people (but of course it is hard to find a lot of products for those at the more extreme end.)
1 – Height-adjustable desk from MultiTable 

And the winner for the best poker pro chair isn't a chair at all; it's an adjustable-height desk. This table from MultiTable allows you to crank the desk surface down so that you can either use it at normal desk level or crank it up high so that you can use it standing up. The hand-crank is super-easy to use, too.
This table is what I currently use and I love it. For me, being able to go between standing and sitting increases my ability to focus on poker so much. I've recommended this set-up to so many people.
There are so many scientific studies out about how bad it is for your body to be constantly sitting down in one single position all day long. Which means there's not going to be any single chair that's going to solve your sitting problems; just the fact that you are sitting in one position day after day IS the problem.
The adjustable-height desk solves problem by ensuring that you're always varying your posture throughout the day. (I also like to vary my sitting with a kneeling chair and an exercise ball, just to really make sure I'm not getting into one pattern.) It's kind of like improving your poker game; you can't become stuck in a rut of just doing the same exact thing all the time. It's the same thing for your back.
An added bonus; they say that standing up burns an extra 50 calories more per hour than sitting down. This is also a great thing for online poker players or gamers, who can tend to have a really sedentary lifestyle that doesn't really help staying in shape.
I currently use this table in combination with the HM Embody (and a few other chairs) and it's great. Considering that the important thing is switching positions, I think you could get by with a pretty inferior chair to accompany this table.
The great thing about it, too, is that you don't need to test it out in person like you do chairs; it's one-size-fits-all. Read some of the reviews on Amazon (average of 5 stars) about how useful it is and you'll see how passionate people are about this product and why it's a great solution for poker players.