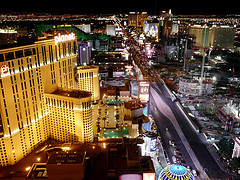 It's an important day in every poker player's life – a day you plan for, a day you dream about, your mind filled with visions of tourist donks and huge pots – and now it's almost here.
There are websites aplenty about how to get into the nightclubs, which buffets are the best deals, and how to slip the desk clerk a $20 to get yourself a room upgrade.  But what's the best plan for poker players?  There's a whole strip full of glittering lights, sweating tourists, and you just want to find someplace to get your grind on.
[learn_more caption="$20 Tip Trick"] The difference between a ground level room and a high-rise room with a view of the strip is a mere $20.
Instructions:
1. Upon checking in, slip a $20 bill under your credit card simultaneously asking, "Do you have any complimentary upgrades available?"
2. They either say YES, which is a resounding high percentage of the time (with evidence), or a no, in which they thank you for your generosity and usually return your tip.
There's even a whole website out for it with success rates for various hotels, check it out:
www.thetwentydollartrick.com[/learn_more]
And we're bringing you a guide to make your Vegas trip a successful one.
First, we're going to talk about where to stay, and that all depends on your personal goals and how much you want to spend.
I mean, you can't trust the hotel websites to give you that sort of information.  They all say their casino/restaurants/pool/poker room is the best.  What you want is insider information from someone who's been there, done that, and lived to tell the tale.
Best Picks – Bellagio, Aria, Venetian and Caesars
If you're going with friends/girlfriend (whom are not interested in playing poker), planning to have a good time and play a little poker on the side.  Then pick a hotel that either has what you want (clubs, pool, etc.) or is within a central location to what you want (I definitely prefer the strip).  Go tool around the internet and figure out where you want to party and choose accordingly.  If you are going with the girlfriend, then let her choose, because otherwise it's going to be a long trip.  A long, painful trip.
Bellagio – The highlights: Bobby's room, the largest variety of game spreads that I've ever seen, and the cache of playing at the Bellagio.  The lowlights: I found it seriously cramped with fairly poor table service.  It was cramped enough that I was constantly getting bumped and jostled every few seconds, which really isn't a lot of fun when you want to sit, relax, and just play.  Also, the room is ridiculously hard to find if you've never been there before – it's one of the few casinos I recall with inadequate signage.  It's cool to say you've been there, but otherwise I feel no pressing desire to return.
Aria – Although a little difficult to find at first, if you can manage to locate the Aria poker room you are in for a treat.  The room is small but extremely comfortable, and the table service is outstanding.  They have a couple of well structured daily tournaments, and the low level cash I played there (1/2 and 2/5) were always going.  Oh, and they also have a little thing called the Ivey Room, in case you hadn't heard.  I have to give the nod to The Venetian as my personal favorite, and the hand's down best room in Vegas right now, but if more people start frequenting the Aria it could take over the top spot.
The Venetian – Take the footbridge over the canal and enter the doors right under the Phantom of the Opera sign.  Look to your left.  This is the best poker room in Vegas – the Venetian.  An huge room that always smells like – well, I don't know what the smell is, but it's not cigarettes and beer, I can tell you that – anyway, the Venetian has what you are looking for.  A wide variety of cash games, the best structured daily tournaments that I've played, in a well lit, comfortable and well staffed room.  Their Deep Stack series during the WSOP beats Caesar's Mega Stack series without question.  Once I found the Venetian, I pretty much wanted to play there all the time.
Caesar's – The highlights: the poker room is separate from the main floor (the entrance is right off the sports book), and they have separate rooms for cash and tournament play.  Cash starts at 1/3 instead of 1/2, the cocktail waitresses were plentiful, and it was an overall decent place to play.  But there is pretty much nothing spectacular about Caesar's.  It's fine, and if others wanted to play there I wouldn't have any strong objections, but I probably wouldn't seek it out on my own.


Value Bets – MGM, Planet Hollywood
If you're going by yourself or with poker friends, and want to play in a variety of different poker rooms, I would suggest you stay as close to the center of the strip as your budget can afford.  Caesars, Bellagio, Bally's and the Flamingo are all roughly around the center, which represent a nice mix of hotel price ranges. Honorable mention: If all you really want is a place to crash, then you can go as rock bottom as you want (Imperial Palace and Tropicana are near the center of the strip, and are relatively affordable) and never see your hotel again other than to sleep.  If you really don't care about price or time spent pounding the pavement, the edges of the strip usually have some pretty cheap hotel rooms (Excalibur, for example).
MGM – Points for having a large, well staffed room, with respectable wait times even when it's packed, and for having a decently priced deli right next door.  The MGM loses points for being out in the open with an actual rail that drunken watchers can and do hang all over, smoking and drooling into your hair if you are unfortunate enough to get seated right by the rail.  If you get the right seat, though, you can look across the floor and see the tigers.
Planet Hollywood – I only played there once, and the poor service (waited over two hours for a 1/2 table) and gaudy colors everywhere are enough to make me not want to go back.  I've never seen it packed in there, either.  Decent pool and rooms for the price, though.  PH is fine as your hotel, but avoid the poker room. It caters to the younger crowd, good price and centrally located across from the Aria and Bellagio.
Rock Bottom – Excalibur, Tropicana
If your primary goal is grinding 24/7, and you only need a place to occasionally rest your head. The following are some of the cheapest on the strip that isn't called Motel 8.
Excalibur – I sampled this particular room when they were using only PokerTek tables (for those unfamiliar with these, they are automated poker tables – the dealer and rake taking are done by the computer, all villains are live), and that was about the only thing going for it.  Between the poor location of the hotel and the cramped room (right next to the sports book), the only good thing was the fact that tourists seemed to mistake the automated tables for video poker.  Now that they are back to regular dealers, don't waste your time unless you are staying there and are too drunk to wander anywhere else.
Tropicana – Like a scene out a 1970's movie. Still though, probably the cheapest high rise hotel on the strip. No poker room, but is right across the street from MGM.
By: SGT RJ
Photography by: http2007
[box type="info"]Tips:
-Weekdays/winter months are always cheaper than weekends/summer/major events.
-If there's a major tournament series going on (WSOP, WPT, etc.), and you're planning to play in an event, you can get a discount for the hotel that the series is hosted at. This year the WSOP is working with Caesar's Entertainment, which manages many hotels on the strip including Caesar's, Rio, Flamingo, etc. Check out their website for more information.[/box]