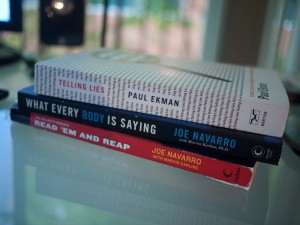 Updated April 2nd, 2014
Black Friday have you switching to live poker? No problem! Today we're reviewing the top 5 books on Poker Tells! One common denominator is that you should learn how to handle your chips, so if you haven't yet, checkout our post on the 5 best poker chip sets in the world!
5. 200 Poker Tells by Joe Navarro
– A sequel to our #2 pick, 200 Poker Tells is an Amazon Kindle exclusive.  This book is a great pick if you've already read the first one, while the material is mostly different, I think the tells listed in the first book are much more +EV. For those who aren't familiar with Kindle, read about it here. You don't have to own the Kindle
, I don't. I use my iPhone, and I also use read from my computer when I'm at home with the Kindle app.
As a person who loves to own a physical book I've grown to love the Kindle and here's 3 reasons why:
(1) I love to take notes in books, but it's so difficult locating a specific note when I really want to, with Kindle books, all my notes and highlights are in one place.
(2) Searching: With a physical book it's extremely difficult and tedious to locate a specific part in the book, with digital books, if I wanted to search for posture tells, I could simply start by searching "posture." Saves a ton of time.
(3) eBooks are cheaper and they are delivered instantly. And They're conveniently stored on your phone and not taking up room in your entertainment center.
4. Telling Lies: Clues to Deceit in the Marketplace, Politics, and Marriage, Third Edition
by Paul Ekman – Are you a fan of Lie to Me on FOX? It's one of my favorite shows and if you haven't checked it out I strongly recommended it. Although this book isn't poker specific, what it does give you is a skill set to uncovering emotions and nonverbal communication. The FOX Series is based on Paul Ekman's research. Paul Ekman is the real life Cal Lightman. If you're looking for poker tells specifically, you could probably skip  this book, but I personally loved it, for much of the same reasons I enjoyed #3…
3. What Every BODY is Saying: An Ex-FBI Agent's Guide to Speed-Reading People
– Again, not another Poker specific book. But if you want to expand reading ability off the felt, I strongly recommend this book. It was an easy read and filled with visuals contrasting different emotions.
2. Phil Hellmuth Presents Read 'Em and Reap: A Career FBI Agent's Guide to Decoding Poker Tells – Probably the most popular book on poker tells, at #2 this book is a must have for any poker player. When I picked it up a few years ago I wasn't expecting much, I was expecting much of the same stuff you can read on the internet, strong means weak, looking at indicates ____, etc. But this book covers a ton of advanced material. I've watched DVD's on poker tells and even that isn't as useful as this book.  PS. If you're going to start playing live… you better know how to handle your chips. And what better way than to buy your own set? Checkout our review on the 7 best poker chip sets.
1.  Reading Poker Tells by Zachary Elwood
I'm ranking this book #1 as it's the latest and greatest poker tells book to hit the scene. And books, like poker, have to continuously evolve. When people become conscious of tells (ex: strong means weak) they can put you in reverse-psychology situations. While Caro's Book of Poker Tells
 released in 2003 was a good book for it's time, and it's still a decent book against novice players, that book becomes more irrelevant against more cognizant players. I believe that many poker tells books in the past were tailor made for live poker players.  I think this is the best book that can help an online player transition to live play. A lot has happened since 2003, online poker exploded.. and crashed (twice). Online Poker's "Black Friday" is probably the reason you're reading this blog post, and if you're looking to transition to live play, this is the book for you. If you can win just a few blinds with this book, it will certainly pay for it's self.
Here's what some of the top pros had to say:
"Elwood's Reading Poker Tells is clearly the best book on this aspect of live play."
-Mason Malmuth, author & co-owner of TwoPlusTwo Publishing
"I took your book with me to the WSOP and it definitely helped my game. I found myself watching and exploiting other players even more than usual. I really like the organization and delivery of your book. Bravo."
-Tommy Angelo, pro poker player, writer, and coach
[box type="info"]Busts: Don't waste your time on these DVD's like I did:
Phil Hellmuth's Million $ Secrets To Bluffing & Tells – Don't get me wrong, I love to learn with video, but this video is simply garbage. A ton of it is basic and listening to Hellmuth ramble on for hours will give you a migraine.
Howard Lederer "Tells" All – I think the 1.5/5 stars on Amazon "tells" you how good this DVD is. It doesn't have enough information on physical tells like the title would lead you to believe. Don't waste your money.
[/box]